wings of love to people in need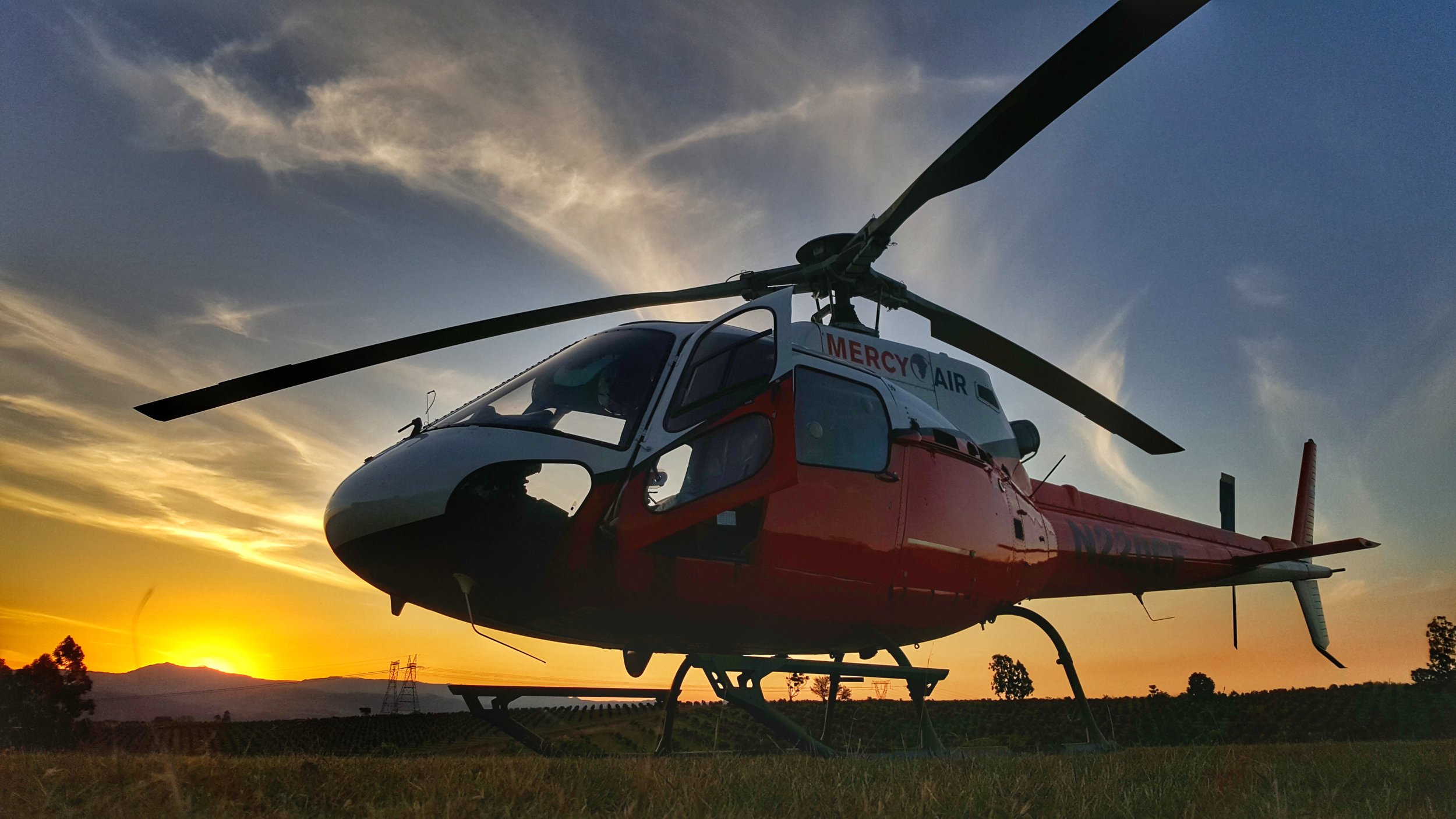 Vision
That communities in isolated areas should be shown the hope of salvation that is in the love of Jesus Christ.
Mission Statement
Mercy Air acts as a catalyst to facilitate spiritual and physical relief through coordinated collaboration with like-minded organisations, to reach remote communities that are best accessed by means of aircraft.
Who We Are
Since 1991, Mercy Air has been providing an aviation service to humanitarian and mission organisations. Our headquarters are in White River in the north-eastern region of South Africa.
The core team of full-time, dedicated pilots, mechanics and logisticians at Mercy Air is supplemented by short-term volunteers and local staff.
Mercy Air is also represented in:
Who We Help
Mercy Air seeks to assist with developmental initiatives in communities in remote areas in southern Africa. We also provide aid to victims of natural and human disasters in the southern African region.
We partner with recognised mission and church ministries as well as development agencies organisations and individuals who provide support to these communities.

In addition, Mercy Air supports the ongoing efforts of various non-government organisations.

Mercy air is helping people in need without regard of their race, gender or religion.
Where we help
Mercy Air flies to those communities where access is difficult or impossible by any other means.
Our field of operation covers a large portion of the southern African region.

The combination of fixed-wing aircraft and helicopters allows Mercy Air to offer flexible solutions to the most complex and demanding transport needs.

By air, even those regions that are difficult to reach can be accessed regularly.
How we help
Through our partners, we identify the needs of remote communities. We then source suitable resources (skilled and professional volunteers, together with associated materiel) to meet those needs. Mercy Air then provides air transport to take these resources to the places of need. Some specific resources include:
Medical Project: Doctors, dentists, ophthalmologists, audiologists and others.

Education Project: Teachers, occupational therapists, linguists, publishers.

Evangelism Ministry: Seminary students, pastors, Christian literature.

Other projects: Agricultural trainers and advisors, water and sanitation provisions.
The Mercy Air South Africa Team
Cessna 310-R
Aircraft Reg: ZS-JOU
Power plant: 2 x Continental IO-520M 285Hp
Max take-off weight: 5680 lbs (2582 kg)
Cruising speed: 175 kts (325 kph)
Endurance: 6 hrs
Configuration: 1 Pilot +5 Passengers.
Range: 1000 nm.
2 x Airbus AS-350 B2 'Squirrel'
Aircraft Registration: N220CF & N775MA
Powerplant: Turbomeca Arriel 1D1
Max Takeoff Weight: 2,250 kg
Maximum External Load: 1,030 kg
Cruising Speed: 130kts (240 km/hr)
Endurance: 4.4 hours
Configuration: 1 pilot + 6 passengers
Quest Kodiak 100
Aircraft Registration: ZS-TBS
Manufactured: 2008
Powerplant: PT6-34 750Hp.
Max Takeoff Weight: 7255 lbs (3298 kg)
Max Weight Takeoff roll: 305m (1000ft)
Cruising Speed: 155 kts
Endurance: 6.5 hrs
Configuration: 1 pilot + 9 passengers
Range: 1000 nm.
Short-term volunteers:
Mercy Air invites short-term volunteers with specific skills, who are willing to visit our base in White River for periods of 1, 2, or 3 months. Your skills could be provided at the base, or, you could be taken to one of the communities where we serve, to apply those skills there.
Long-term volunteers:
Mercy Air is recruiting volunteers for the following positions:

Fixed-wing pilot (Cessna and Kodiak 100)

Fixed wing maintenance engineer

Helicopter pilot (Squirrel AS350-B)

Helicopter Maintenance Engineer
If you are interested in joining Mercy Air in any of the above capacities, please contact our office: office@mercyair.co.za
Programmes
Mercy Air has adopted three 'pillars' on which we base our support to remote communities. These are: Education Project, Medical Project and Evangelism Ministry.
As each of these disciplines require specialised resources and skills, Mercy Air collaborates with partner organisations that share our vision, mission and commitment to excellence."
Education
Through joint venture agreements, Mercy Air has formed Education to Build a Nation as a collaborative organisation with multiple partner organisations. The joint venture combines the vast experience of many professional educators to build resources, train grass-root teachers and educate communities.
Team comprises teachers, occupational therapists and other dedicated skilled people, who have a deep desire to bring literacy to these marginalized people by introducing a literacy program that is culturally relevant. The program is presented in the mother-tongue, utilizing the most basic materials. Local villages who show potential are trained to take over the program as 'educators' after which the Mercy Air Team monitors progress and provides improvements to the curriculum.
Medical
Although it is difficult to obtain authorisation to provide medical assistance in some of our neighbouring countries, we are able to source volunteer doctors, dentists, and from many other specialist fields, to devote short periods of their time to bringing some relief to rural communities. This service also provides for specialist training to local persons, to improve their knowledge and experience through training seminars and in-field training.
Trained nurses provide cervical screening and other interventions for women in the community. Audiologists screen for hearing aids and optometrists/ ophthalmologists screen for cataract surgery candidates, as well as reading glasses.
evangelism
Mercy Air is a Christian organisation and, as our Vision states, our primary goal is the share the Gospel of Jesus Christ. The Education and Medical Projects, although served unconditionally, provide an opening for exposing the communities to the hope of salvation. We strive to share our hope, in an unobtrusive manner, to provide holistic relief.
Donations
Over the years the flights of Mercy Air have saved many lives and helped those in need. Our support from the air keeps people from despair.
It is the generous giving of individuals, groups, companies and churches that keep the WINGS OF LOVE TO PEOPLE IN NEED in the air.
Please stand with us. Join our Crew and be an active part in this endeavor.
We ask nothing for ourselves. Each one of us has no salary from Mercy Air but is sponsored individually.
Our focus is entirely on those less fortunate by birth and circumstance than ourselves.
Mercy Air is a tool. It has and it will continue to serve thousands of people in need. In ways we are now well aware of, and in ways which may always be unknown to us, and to you.
Your interest and support of the work of Mercy Air is tremendously appreciated!
South Africa
First National Bank, White River 1240, Republic of South Africa
Account No.: 542 811 56108, Branch Code: 270552 (Cheque Account)
Swift Code: FIRNZAJJ, Account in name of: Mercy Air SA
U.S.A.
For a tax deductible receipt,
checks may be made out to: Mercy Air Inc.
and sent to:
Mercy Air Inc., P.O. Box 2571, Holland, MI 49422-2571 U.S.A.
>Important: please choose and write account number clearly on the check (or in remarks box in PAY PAL Online Donation):
General Account Numbers:
9740 Mercy Air general
9720 Flight subsidy
9795 Helicopter Outreach
Switzerland
Stiftung Mercy Air Switzerland
Kronenstrasse 11, CH-8735 St.Gallenkappel
Post Finance Account No. (Kto.-Nr.) 82-555500-6
IBAN CH24 0900 0000 8524 1301 6
Swift-Code: POFICHBEXXX
Mercy Air is nestled in the hills, 6 kilometers outside of White River, with nearby opportunities for shopping, medical care and recreation.
Many people who are working in difficult circumstances find this a quiet place to re-connect with their families and with God – a place for spiritual rejuvenation.
Mercy Air Hospitality offers a number of beautiful high standard self catering cottages and guest rooms for full time Christian workers to come rest, relax and restore. We are able to accommodate large teams and families and individuals.
Let us provide you with a warm and friendly environment where you can come to unwind, put your feet up and have a break.
ACCOMMODATION
Our accommodation is all fully self catered. The rooms provide a fridge, microwave and stove. Linen and towels are provided.

One of our accommodations consists of a large house with 4 on-suite rooms a very large lounge and kitchen and is suitable for conferences or teams. Other flats are completely self contained and suitable for families and individuals.
FACILITIES
The grounds offer the opportunity for garden walks, and there is a swimming pool and a child's play area with a trampoline. Near the pool is a games room with a pool table and squash court. There is a laundry room and a braai area as well. Internet access is available in the games room, but no TV.
LOCATION AND DIRECTIONS
Nestled in the rolling hills of the Lowveld in the province of Mpumalanga place of the rising sun) is where you willl find our beautiful and peaceful facility. There are beautiful walks, drives and places to visit nearby. Discover more about it with the provided links.
The small little local village, White River, is only 6 km away from our farm. You'll find restaurants, internet cafes, a small cinema and grocery shops.
The capital of the whole province, Nelspruit, is situated 15 km south of White River. Cinemas, malls, restaurants, a beautiful botanical garden and medical/ dental facilities are available.
If you want to fly into the area, there is the International Kruger Airport. Or you take a 4 hour drive from Johannesburg – shuttle services are available. We are only about 3 hour drive away from Maputo, Mozambique.
CONTACT AND BOOKING
Phn: +27 13 750 1221
Cell: +27 72 731 2452
E-Mail: hospitality@mercyair.org

How to find us:
JHB to Nelspruit on the N4. Turn left on R40 from Nelspruit to White River. Go +/- 22 km. up three big hills.
Turn left at 10th traffic light (inc. N4 the one you started at), R537, Sabie Rd.
There is a big concrete water tower directly ahead, and a Spur Restaurant on the right side.
Take Sabie Rd. for 2.4 km.
Turn left on Brondal Rd. and go for 1.4 km.
Turn left through the blue gate by big «Mercy Air» sign in the field.
Offices and hangers are at bottom of airstrip. »map / directions
For booking, please send us an e-mail with details of your accommodation request and we will contact you as soon as possible. Thank your for visiting our homepage. Feel free to contact us, if you have any further questions.
Pricelist:
Adults (16+) R260 per person per night
Children (2-15) R130 per person per night
Children (0-2) stay free
NO PETS ALLOWED
Please understand that Mercy Air provides accommodation for those who are actively serving with a Christian Ministry.
Please note that payments are in rands only.
Cancellations must be made at least 24hrs ahead of booking date, not counting weekends, or a cancellation fee will be charged.

CHECK IN TIME IS 2PM-5PM.
CHECK OUT TIME IS 10AM
Mercy Air office hours are 8am - 5pm.
Hospitality cell phone: +27 (0) 72 731 2452
Thank you and Many Blessings
Mercy Air
Hospitality Team
Our Office
Brondal Road
White River
1240
South Africa
Contact Us
General Enquires
Tel : +27 (0)13 750 1221
Mail : office@mercyair.org
Flight Operations
Mail : flightops@mercyair.org

Maintenance Office
Mail : maintenance@mercyair.org
Hospitality Reservations
Mail : hospitality@mercyair.org